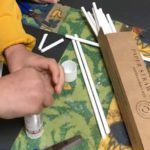 Giving back to the community and making a difference is definitely part of our ethos. So, when we received a request from a local school for some white paper straws, we were more than happy to oblige.
Reception pupils at a local primary school in West End, Surrey have been working on a project about dinosaurs. To help with their learning, teachers thought it would be a great idea for the children to make dinosaur skeleton pictures out of paper straws.
We think the pupils have done a fantastic job and their pictures of the dinosaurs look amazing.