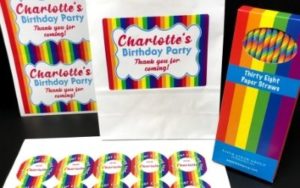 Personalised Party Bag Packs
Your child's birthday is always a very special occasion to celebrate. Seeing them surrounded by their friends and family as they grow up, gives us special memories that will last a lifetime.
However, planning a birthday party for your little one can be a major challenge for some parents. There always seems to be a million things to think of. If you are hiring a venue, you will need to liaise with entertainers, suppliers and possibly caterers. If you are planning a small party from home, there will still be much to organise and think of. Whatever kind of party you are planning, something that will often end up at the bottom of the list is the party bags.
Party Planning
Party bags have become a staple of children's parties. When you are young, it is always exciting to be able to bring a bag of goodies home with a slice of birthday cake. It is a nice touch to add to the party without breaking the bank and a way of extending the celebration once the party is over.
So, we have made it even easier to coordinate the party bag with your child's birthday party theme. Our new personalised party bag packs are now available to order on our website, in six different party themes.
Make it personal
Personalised party bags add a real meaningful touch in thanking each of your guests for coming and celebrating your special day. Our party bags can add that extra something to ensure that your party is the talk of the town.
Each party bag pack contains fifteen party bags with the birthday child's name on a sticker on the front of the bag and a round sticker to seal the back of the bags, along with a coordinating themed pack of paper drinking straws to use with your table decorations.
We have six different fun and colourful themed designs to choose from:
Your options
Rainbow – A real favourite with it's bright and bold colours that will add vibrancy to your theme.
Emoji - The well-known fun emoji characters, full of smiles and cheeky laughing faces adding character to your party.
Unicorns – Pink unicorns will add magic and enchantment.
Princess – with carriages, crowns and magic wands, this theme is perfect for your birthday princess.
Football – The perfect theme for those football fanatics with our traditional footballs on a bright lime green background.
Jungle – Your child will be the perfect King or Queen of the jungle with our bold and colourful jungle themed bags, full of monkeys, lions and tigers.
Check out our instagram for more paper straw inspiration.