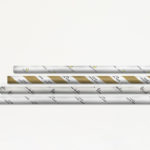 Whether you a corporate giant looking to promote your message or a couple planning your wedding, adding a personal touch to your paper straws will help set you apart.
In a business environment it's proven that using effective branding helps to increase recognition, drive loyalty and retention, and stands you out from your competitors.
Add in the fact that your customers will be using the UK's finest 100% plastic-free, biodegradable, compostable and recyclable paper straws and you are sure to leave a positive impression.
Paper Straw Group was set up with the specific purpose to help combat the plague of single use plastic polluting our oceans and environment.
My grandfather established Optichrome printers nearly 60 years ago and being environmentally sustainable is something incredibly close to our heart.
So, when I realised just what a huge problem plastic pollution was, we set about seeing how we could use our experience to help.
It soon became clear that with nearly six decades of expertise in paper, the best way we could help would be to create the UK's best paper straws.
As I researched more into the subject, I was shocked to discover that most paper straws in use in this country are imported and many are likely to contain micro plastics.
We realised that we could make 100% plastic free straws that are strong and durable and not only that, but we can personalise them.
For wholesale buyers we can produce your logo or message wrapped around the straw and we can even produce branded wraps.
For people buying for personal or party use we can print your message or name along the side of the straw, which is proving hugely popular for wedding, christening and landmark birthday parties.
You can discover our full range of branding and personalisation options here.