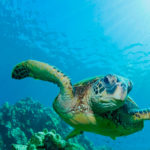 The Surrey Straw Switch is helping Surrey become the first county in Britain to go completely plastic straw free.
Like so many people, I couldn't believe the horrifying images from the Blue Planet 2 series and was shocked to see what plastic is doing to our sea life and oceans. There and then I decided something had to be done.
I personally love spending time in the sea and wanted to find a way to help. As Managing Director of family printers, Optichrome, which has over 50 years' experience of working with paper, I realised we could use our expertise to make paper straws here in Britain. It was from this idea that Paper Straw Group was born.
As I researched more into the problem I was surprised and disappointed to find out that the majority of paper straws used in the UK are imported from places like China and many have traces of micro plastics in their glue.
When you take in to account the carbon footprint to import these, it soon became clear that the paper straws being widely used aren't as environmentally friendly as they could be.
So, we set about creating 100% plastic free straws that are completely earth friendly. All our straws are recyclable, compostable and biodegradable while importantly being strong and durable.
Based in the heart of Woking for over three generations we wanted to see how we could help Surrey become a leader in going plastic free and give our support to all the great businesses throughout the country.
So, the Surrey Straw Switch was conceived. Working in partnership with Surrey County Council, Paper Straw Group will be offering free paper straws to every business in the county.
Starting in Woking on Thursday 28th March we will be hosting a series of Big Switch Days in conjunction with each of the 11 districts in Surrey. Local businesses will be able to come and visit us and receive a free starter pack which contains:
250 eco paper straws
Eco straw dispenser
Window sticker to show you are part of the switch
Poster for your counter top
A business information pack
Preferential business rates on all future orders
The first Big Switch Day will take place in Woking Town Centre and details of future events will be posted on this site.
We really hope you will join us in helping to support a plastic free society and making Surrey a leader in creating a plastic free environment. Click here to register.
Natalie Stephens